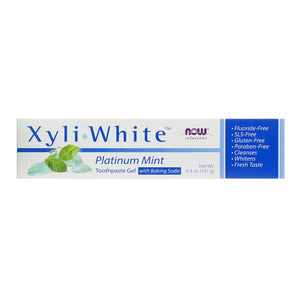 NOW XyliWhite Toothpaste is all-natural, formulated from select materials, and guaranteed to be of superior quality. XyliWhite is a fluoride-free toothpaste gel from NOW Foods that utilizes the well-researched benefits of xylitol to help support desirable oral health. Xylitol is a natural sugar alcohol with a taste and texture that is remarkably similar to table sugar, with 40% fewer calories!

Unlike many of the chemicals found in other fluoride-based, whitening toothpastes, xylitol is an all natural, well-tolerated substance that occurs naturally in many fruits, berries and other natural sources. In fact, the human body manufactures as much as 15 grams of xylitol every day.
Features:
Fluoride-Free
Fresh Taste
Whitening With Baking Soda
Reduces Plaque
Proven safe for adults & children alike
Functional Ingredients:  Xylitol (25%), Sodium Bicarbonate (9%) (whitening), Papain (whitening).

Ingredients:  Water, Xylitol, Hydrated Silica, Sorbitol, Sodium Bicarbonate, Glycerin, Cocamidopropyl Betaine, Natural Mint Flavor, Carrageenan (Chondrus crispus), Tea Tree Leaf Oil (Melaleuca alterrafoilia), Papain and Potassium Sorbate.

Contains no:  Fluoride.