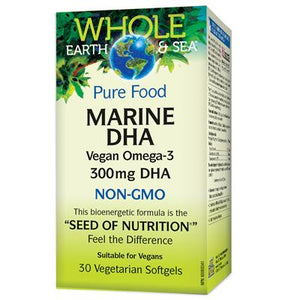 The docosahexaenoic acid (DHA) and eicosapentaenoic acid (EPA) found in fish oil actually originate in the algae that fish consume. Whole Earth & Sea Pure Food Marine DHA Vegan Omega-3 provides the benefits of these omega-3 fatty acids in a sustainably harvested, non-GMO formula derived from algae. Extracted from specially selected microalgae that naturally produce pure DHA and EPA, this algae-based source of omega-3 has no fishy smell or aftertaste. It is an excellent vegetarian and vegan alternative to fish oil supplements.
DHA supports healthy eyes, vision, and brain function and is vital for healthy eye and brain development in infants. It also supports cardiovascular health and helps regulate inflammatory response.
Each softgel contains:
Microalgae Schizochytrium oil (Schizochytrium spp.) (whole) 750 mg Providing: Omega-3 fatty acids 322.5 mg
Docosahexaenoic acid (DHA)300 mg
Eicosapentaenoic acid (EPA)9 mg
Non-medicinal ingredients: Vegetarian softgel (non-GMO modified corn starch, glycerin, carrageenan, purified water), natural non-GMO mixed tocopherols.