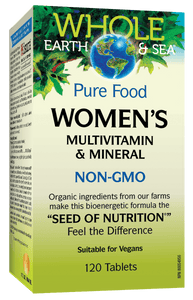 This non-GMO, whole-food formula features bioenergetic vitamins and minerals in a nutrient-rich base of organic plants grown on Factors Farms. Plants are harvested at their peak and immediately raw processed at our facilities using EnviroSimplex® to retain the vital minerals, vitamins, enzymes, phytonutrients, and antioxidants. The processing temperature always stays below 48 °C (118 °F) resulting in raw nutrition from whole plants that captures all the vibrant energy and goodness of nature.
Specially designed to meet the nutritional needs of women
Raw, whole-food bioenergetic formula featuring active vitamins for direct use
Made with farm-fresh, organic, and sustainably grown non-GMO ingredients
Suitable for vegans and vegetarians
$2 from each bottle sold goes to the Plant a Seed &See What Grows Foundation
Medicinal Ingredients: Each Pure Food Maximizer™ tablet contains:
Vitamin C (organic amla (Phyllanthus emblica) (fruit), mixed ascorbates) 45 mg
Niacin (inositol hexanicotinate) 12.5 mg
Vitamin E ( d-alpha-tocopherol from sunflower oil) 15 IU (10 mg AT)
Pantothenic acid (pantethine) 5 mg
Natural mixed carotenoids (Dunaliella salina) (whole) providing:Beta-carotene5000 IU (3000 mcg)(and naturally occurring levels of alpha-carotene, cryptoxanthin, zeaxanthin, and lutein)
Benfotiamine (lipid-soluble form of vitamin B1) 2.5 mg
Riboflavin (5'-phosphate sodium) 1.25 mg
Vitamin B6 (pyridoxal-5'-phosphate) 1.25 mg
Folate (from (6S)-5-methyltetrahydrofolic acid (MTHF), glucosamine salt, Quatrefolic®) 400 mcg
Vitamin B12 (methylcobalamin) 200 mcg
Vitamin K2 (menaquinone-7) (MK-7) (natto bean) 40 mcg
Vitamin D3 (cholecalciferol, lichen) 500 IU (12.5 mcg)
Calcium (organic algae (Mesophyllum superpositum) (whole), calcium ascorbate) 25 mg
Magnesium (citrate, malate, succinate, glycinate, aspartate, ascorbate) 12.5 mg
Iron (ferrous bisglycinate) 10 mg
Zinc (picolinate) 7.5 mg
Manganese (citrate, ascorbate) 1.25 mg
Boron (citrate) 0.75 mg
Copper (bisglycinate) 0.5 mg
Chromium (picolinate) 200 mcg
Iodine (kelp) (Ascophyllum nodosum) (whole) 75 mcg
Selenium (sprouted garlic (Allium sativum) (bulb), selenomethionine) 50 mcg
Lutein (Tagetes erecta) (marigold flower) 1 mg
Lycopene (Lycopersicum esculentum) (tomato fruit)1 mg
Active Vegetables – organic kale, organic alfalfa, organic cilantro leaf, organic parsley, caperberry, sprouted garlic, organic artichoke, organic black radish, organic dandelion, barley grass, pepper, organic celery seed, organic beetroot, organic tomato; Cruciferous Vegetables – A broad spectrum of fully active glucosinolates and myrosinase enzymes from wasabi rhizome (Wasabia japonica) and fresh freeze-dried sprouted broccoli, organic upland cress, daikon, red radish, organic cauliflower, organic cabbage, organic arugula, organic watercress leaf; Ultra Fruit Polyphenols – grape, pomegranate, strawberry, organic cranberry, organic blueberry, raspberry, bilberry, organic Indian gooseberry, schizandra berry, red orange, organic açai berry; Herbals and Plants – Theracurmin® curcumin, organic decaffeinated green tea extract, organic milk thistle, organic ginger rhizome, organic echinacea, marigold, organic oregano, organic peppermint, organic spearmint; Whole Plant Sea Vegetables – organic spirulina, organic chlorella, red algae, blue green algae, kelp, Dunaliella salina.