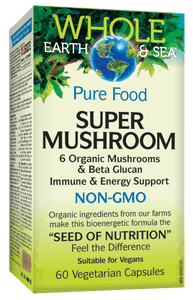 Sustainably Sourced
Whole Food Source
Non-GMO
No Gluten
No Soy
No Corn
Pure Food Super Mushroom combines six organic mushrooms – maitake, shiitake, reishi, cordyceps, chaga, and lion's mane. Each has well-known health benefits that improve immunity, increase energy, support cognitive health, and help with stress management. Added Wellmune® beta-glucan and Farm Fresh Factors™ strengthen the immune system and support overall health.
Ingredients
Wellmune ® Beta-1,3/1,6-Glucan (Saccharomyces cerevisiae) (whole) 250 mg
Organic cordyceps powder (Ophiocordyceps sinensis) (stroma)50 mg
Organic chaga powder (Inonotus obliquus) (whole)50 mg
Organic lion's mane powder (Hericium erinaceus) (whole)50 mg
Organic maitake powder (Grifola frondosa) (whole)50 mg
Organic reishi 30:1 extract (Ganoderma lucidum) (fruit body)50 mg
Organic shiitake powder (Lentinula edodes) (whole)50 mg
Farm Fresh FactorsTM200 mg
Our Farm Fresh FactorsTM starts with fresh raw plants, processed using our EnviroSimplex ® method to retain and intensify the total goodness of whole food into rich living food. Active Vegetables – organic kale, organic alfalfa, organic cilantro leaf, organic parsley, caperberry, sprouted garlic, organic artichoke, organic black radish, organic dandelion, barley grass, pepper, organic celery seed, organic beetroot, organic tomato; Cruciferous Vegetables – A broad spectrum of fully active glucosinolates and myrosinase enzymes from wasabi rhizome (Wasabia japonica) and fresh freeze-dried sprouted broccoli, organic upland cress, daikon, red radish, organic cauliflower, organic cabbage, organic arugula, organic watercress leaf; Ultra Fruit Polyphenols – grape, pomegranate, strawberry, organic cranberry, organic blueberry, raspberry, bilberry, organic Indian gooseberry, schizandra berry, red orange, organic açai berry; Herbals and Plants – TheracurminTM curcumin, organic decaffeinated green tea extract, organic milk thistle, organic ginger rhizome, organic echinacea, marigold, organic oregano, organic peppermint, organic spearmint; Whole Plant Sea Vegetables – organic spirulina, organic chlorella, red algae, blue green algae, kelp, Dunaliella salina.