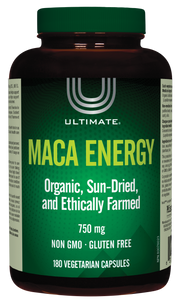 Ultimate Maca Energy with MacaPunch is made with 100% pure, traditionally sundried and natural certified organic maca root grown exclusively in the Andean highlander zones of Peru at altitudes of 14,000 ft., in a region of intense sunlight, winds and below freezing temperatures, where no other crops can survive. Ultimate Maca Energy maca root is considered to be the best natural food due to its excellent and scientifically tested properties. It is a source of considerable amount of vitamins, minerals, amino acids and complex carbohydrates. The nutritional value of our dried maca root is unsurpassed in the industry, and the protein content of our maca exists mainly in the form of polypeptides and amino acids. Ultimate Maca Energy maca root is also rich in fatty acids. In addition to its rich supply of essential nutrients, our maca also contains an impressive array of bioactive components, any or all of which may be responsible for its numerous benefits.
Benefits:
Increases energy
Reduces stress
Increases stamina
Slows biological aging
Improves libido
Fights osteoporosis
Enhances immunity
Relieves headaches (especially migraines)
Improves mental clarity and memory
Increases overall physical and emotional well being
Balances hormones (great for PMS and menopause)
Each Vegetarian Capsule Contains:
Pure Gelatinized Maca Extract............750 mg 
Encapsulated in a vegetarian capsule (hypomellose, purified water) with rice starch, silica and magnesium stearate. Contains no dairy, artificial colours or sugars.