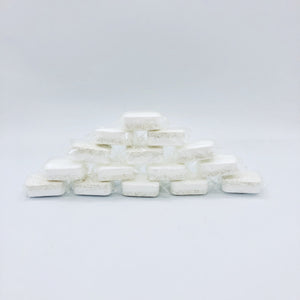 Meet our brand new generation of ecodesigned Dish Tabs! With their super concentrated formula made from more than 93% plant and mineral based ingredients, these ecodesigned tabs are even more efficient than ever before!
A fresh take on grease. A pre-soaking, cleaning and rinsing agent all in one, these Dish Tabs scrub away food residue and leave dishes and glasses sparkling. Tough on grease, our tabs are biodegradable and safe for septic tanks. No need to unwrap the water-soluble pouch! Never run out of tabs with this practical bulk format. Fragrance, dye, phosphate and chlorine free.
What it's made of: Sodium Carbonate, Sodium Citrate, Sodium Carbonate Peroxide, Citric Acid, Sodium Bicarbonate, Sodium Silicate, Polyethylene Glycol Ether, TAED, Glycerin, Subtilisin, Trideceth-4, Amylase, Bentonite
Certified Leaping Bunny - Never tested on animals
Made in France.