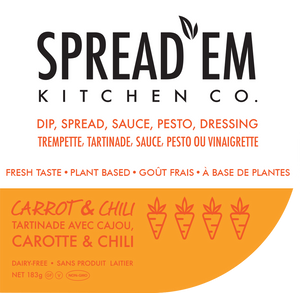 *due to the nature of this product we are unable to ship it - available for local pick-up and delivery only*
Inspired by travels around the world these unique dairy-free dips are the perfect companion. Whether you are snacking at your desk, watching your favourite show or just hanging with friends, these dips will elevate your snacking game to the next level and are sure to be the hit of any party! Carrot combined with a blend of spices, fresh ginger and roasted cashew it starts off sweet fills in with a bit of tang and finishes with a kick!
Vegan | Dairy Free | Gluten Free | Soy Free
Ingredients: Carrots, cashews (tree-nut), sunflower seeds, extra virgin olive oil, lemon juice, apple cider vinegar, garlic, ginger, onion, chili, sea salt, citric acid.