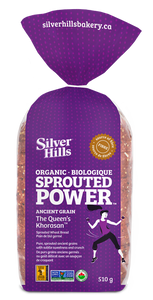 With its sweet, nutty taste and a texture so delightful it will certainly reign supreme in your kingdom. Said to have been found in the ancient tombs of Egyptian pharaohs and queens, khorasan wheat forms the foundation of Silver Hill's most majestic ancient grain bread creation.
Whole grains are healthy. Sprouting makes what's already healthy about whole grains even better. Naturally. Unlike conventional whole grain products that are enriched to make up for nutrients lost in processing, Silver Hills Bakery sprouts whole grains to help you get more of the nutrition that's already there. 
Millet
Sunflower Seeds
Black & White Sesame Seeds
Organic | Peanut & Nut Free | Vegan | Non GMO | Whole Grain | Kosher | Made in Canada
Ingredients: Organic sprouted whole wheat, water, organic sprouted whole khorasan flour, organic seed blend (sunflower seeds, flax seeds, sesame seeds, millet), organic cane sugar, organic vital wheat gluten, cultured wheat flour (wheat flour, bacterial culture), yeast, sea salt, ascorbic acid. Contains wheat and sesame seeds. Made in a peanut and tree nut free facility.
*Due to the nature of this product we are unable to ship it - available for local delivery and pick up only*