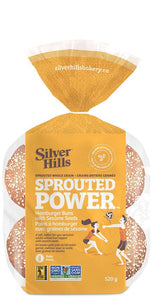 There's nothing better than getting together with family and friends and these delicious hamburger buns are always the life of the party. Made with ancient whole grains popular for centuries! 
Whole grains are healthy. Sprouting makes what's already healthy about whole grains even better. Naturally. Unlike conventional whole grain products that are enriched to make up for nutrients lost in processing, Silver Hills Bakery sprouts whole grains to help you get more of the nutrition that's already there.
Organic | Peanut & Nut Free | Vegan | Non GMO | Whole Grain | Kosher | Made in Canada
Ingredients: Organic sprouted whole red fife flour, Water, Vital wheat gluten, Sesame seeds, Sugars (organic cane sugar), Yeast, Cultured wheat flour (wheat flour, bacterial culture), Sea salt, Enriched wheat flour, Enzymes, Ascorbic acid. Contains wheat and sesame seeds. Made in a peanut- and tree nut-free facility.
*Due to the nature of this product we are unable to ship it - available for local delivery and pick up only*