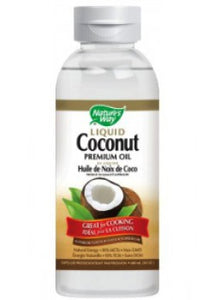 Liquid Coconut Premium Oil maintains the full aroma and taste of fresh coconuts and is from pure, expeller pressed non-GMO coconuts.  A great alternative to butter, margarine or vegetables oil, can be used for baking and sauteing in temperatures up to 180 C (350 F). Great for salad dressings, sauces, dips, smoothies, drizzling over popcorn.

Features:
Non GMO
93% MCTs
Non-hydrogenated
Hexane Free
Stays Liquid – Even When Refrigerated!
Easy to use as a moisturizing hand lotion and hair conditioner
Ingredients: Coconut oil.