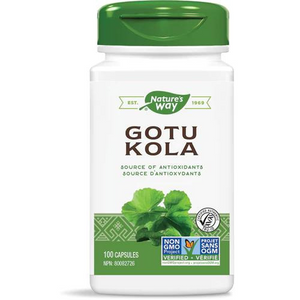 Gotu kola has been used in Asian cultures, including Ayurveda, for hundreds of years. The plant itself is a member of the parsley family and is grown in Southern and Eastern Asia and South Africa. It's often boiled down into a tea. Nature's Way Gotu Kola supports longevity and vitality – we like to call it good vibes in a bottle. Nature's Way Gotu Kola is a source of antioxidants. Nature's Way Gotu Kola is Vegetarian and Non-GMO Project Verified.
Directions: Adults take 1 to 2 capsules once per day.
Ingredients: Gotu Kola ( Centella asiatica ) herb top 475 mg Non Medicinal Ingredients: Hydroxypropyl methylcellulose, magnesium stearate.
Do not use if you are pregnant or breastfeeding. If you experience gastrointestinal upset which persists and/or nausea, discontinue use and consult a health care practitioner. Consumption with alcohol, other medications or health products with sedative properties is not recommended (Based on known sedative effect of this ingredient). If you have a liver disorder, consult a health care practitioner prior to use.