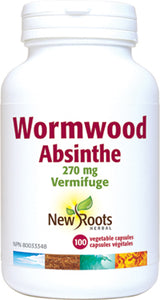 Wormwood exhibits bitter, carminative, antimicrobial, and anthelmintic properties. It is primarily used to expel parasites.
Adults: Take 2–3 capsules three times daily or as directed by your health-care practitioner. Do not exceed above dose.
Each vegetable capsule contains: Whole wormwood (Artemisia absinthium) 270 mg
Other ingredients: Non‑GMO vegetable capsule composed of vegetable carbohydrate gum and purified water.