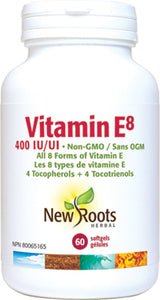 Vitamin E8 is a whole vitamin containing 4 tocopherols and 4 tocotrienols. While many other companies offer only d‑alphatocopherol in their vitamin E products, a true-potency, natural vitamin E supplement is actually a simple family of 8 active members.
New Roots Herbal's Vitamin E8 is sourced from Non-GMO sources and contains all eight forms of vitamin E. This natural, comprehensive vitamin E supplement provides all the benefits of vitamin E you would obtain from food and includes the benefits of tocotrienols, phytosterols, and squalenes.* Phytosterols have cholesterol-lowering properties and may reduce the risk of heart disease.*
Directions of Use: Adults - Take 1–4 softgels daily with food or as directed by your health-care practitioner.
Duration of use: Consult a health-care practitioner for use beyond 6 weeks.