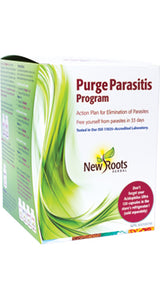 The Purge Parasitis Program provides a comprehensive approach to eliminate parasites.
The Purge Parasitis Program is a 33-day program that helps eliminate harmful parasites from your body. Using natural antibiotic and antiseptic substances, this powerful program will kill most harmful parasites in your body. Unlike rough chemicals that do as much harm to your body as they do to the parasites, the products in Purge Parasitis Program are all-natural, with no major side effects.
The Risk of Parasites:
People with a weak immune system are particularly vulnerable to parasites. The risk of having parasites can be increased through foreign travel, daycare centers, contaminated water, pets, exotic food, undercooked meat and fish, as well as improperly washed meat, fruit, vegetables, and grain; overuse of antibiotics and immunosuppressive drugs; nonprotected sex; and contact with toxins and chemical pollutants.
Parasite warning signs include constipation, diarrhea, gas and bloating, skin problems, allergies, insomnia, sore joints and muscles, chronic fatigue, and immune-system problems.
Purge Parasitis Program for Safe Parasite Elimination:
Our twelve traditional antiparasitic herbs—including wormwood, garlic, cloves, grapefruit seed extract, and barberry bark, to name a few—are powerful and can rid you of most or all of the different parasites you may have. These herbs also have no major side effects and don't interact with drugs.
full spectrum ingredients;
Black walnut hulls and Leaves cleanse the body of tapeworms and parasites.
Wormwood promotes bowel movement, reduces liver congestion, relieves headaches, stimulates immunity, inhibits poisons, and clears toxins. It also expels parasites and benefits the skin.
Garlic, a natural antibiotic, protects from infection, detoxifies the body, strengthens blood vessels, and lowers blood pressure. Garlic is good for all diseases, infections, fungi, and bacteria.
Cloves is good for nausea and vomiting due to food poisoning, infections, fever, or migraines. Cloves are antiseptic, anodyne (soothe and comfort), antispasmodic, and carminative (expel gas to relieve colic and griping). Cloves also act as a stimulant and kill parasites.
Barberry bark reduces liver congestion, promotes urination, resolves toxicosis, reduces infection, and reduces inflammation.
The botanical compounds in grapefruit seed extract is used by doctors nationwide to offer additional support to individuals being treated for systemic infections and intestinal parasites. It has been proven effective against 30 harmful microorganisms including Candida albicans, Aspergillus parasiticus, and Salmonella cholerasuis. It contains extracts from the seeds of grapefruits, lemons, and tangerines.
Goldenseal root is a bitter, cure-all type of herb that strengthens the immune system, acts as an antibiotic, has antibacterial properties, and cleanses the body. It promotes the functioning capacity of the liver, the spleen, the pancreas, and the colon.
Ginger is a spicy herb used for colitis, diverticulosis, gas, indigestion, nausea, and menstrual cramps. It cleanses the colon, stimulates circulation, and reduces spasms and cramps.
Aloe promotes bowel movement, stimulates digestion, and relieves fullness. It also clears parasites, promotes tissue repair, and reduces inflammation.
Quassia is known for its ability to expel intestinal worms.
Oregon-grape root reduces liver congestion, infection, and inflammation.
Mandrake root is a very powerful glandular stimulant. It is one of the few herbs known to remove worms from the urinary system. It also helps remove lead and is used for the treatment of chronic liver diseases, skin problems, bile flow, digestion, and intestinal obstructions. It helps strengthen the liver and bowels.
Sage removes congestion, reduces infection and fever, and enhances immunity.
Ingredients:
2 bottles of Purge Parasitis
2 bottles of Black Walnut Green Hulls
1 bottle of Wormwood
1 bottle of Cloves