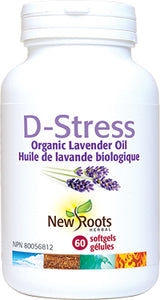 Lavender oil is steam-distilled from the flowers of the lavender plant. The unique mosaic of naturally occurring phytochemicals includes linalool and linalyl acetate, considered to be its main active constituents. Linalool exerts a relaxing effect on smooth muscles by inhibiting release of the compound acetylcholine, a neurotransmitter that acts within the neuromuscular junction. Simply put, acetylcholine triggers nerves to stimulate muscles; modulation of this compound promotes relaxation. Lavender oil has also been shown to support activity of gamma-aminobutyric acid (GABA), the amino acid that regulates and relaxes brain activity. New Roots Herbal 's D-Stress softgels deliver relaxing effects for both body and mind.
Coping with restlessness
Helps with mental stress
Insomnia
Each softgel contains:Organic lavender (Lavandula angustifolia) essential oil, hexane-free80 mg
Other ingredients: Organic olive oil and natural vitamin E (alpha-tocopherol) (from non-GMO sunflower) in a softgel composed of annatto extract (in sunflower oil), bovine gelatin, glycerin, and purified water.