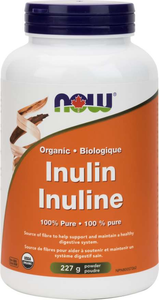 Source of fibre to help support and maintain a healthy digestive system
100% Pure Powder
Pre-biotic
Certified Organic
NOW® Organic Inulin is a fructooligosaccharide (FOS) that acts as a prebiotic, stimulating the growth of friendly and healthy intestinal bacteria, which supports good colon health. Since it also has a very low glycemic index, it is suitable for many people who are on restricted diets. Add it to your favourite beverage or food.
Each teaspoon contains:
Organic Inulin (from Blue Agave plant (Agave tequilana)) 2.8 g
Non-Medicinal Ingredients: None.