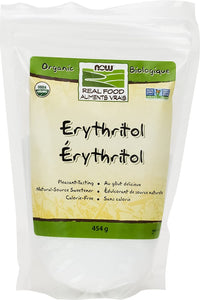 Erythritol is a wonderfully sweet way to avoid sugar and all of its unwanted calories. NOW®Erythritol is a naturally occurring sugar alcohol derived from non-GMO corn and is about 70% as sweet as sugar without any calories. When you substitute erythritol for sugar, you get a refreshing natural sweetener with a low glycemic impact that won't contribute to tooth decay. NOW Real Food® Organic Erythritol has a clean, sweet taste and is an ideal natural substitute for sugar in your reduced calorie and sugar-free recipes. With the natural sweetness of Erythritol there's really no need to ever use refined sugar again.
Pure, Non-GMO
Pleasant-Tasting Natural Sweetener
Great for Reduced-Calorie and Sugar-Free Recipes
Low Glycemic Impact
Naturally Sweet
Calorie-Free
Because you are what you eat, NOW Real Food® has been committed to providing delicious, healthy, natural foods since 1968. They're independent, family owned, and proud of it. Keep it natural. Keep it real. Vegetarian/Vegan Product.