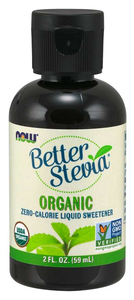 NOW Foods BetterStevia Organic Liquid Sweetener is a calorie-free and gluten-free sweetener. Use this Organic Stevia liquid to add flavour to your life. Delicious BetterStevia Organic Liquid is an excellent addition to your favourite beverages and is especially suited for sweetening coffees and teas - just a few drops is all you need to add a burst of flavoured sweetness to any beverage, hot or cold! BetterStevia is produced using special measures to preserve the full-spectrum of the Stevia herb's natural qualities to create a uniquely pure and better-tasting Stevia.
Features:
Great Tasting flavour!
Flip Cap - Easy to Use and No Mess
Perfect for Sweetening Coffee, Tea, Yogurt, Oatmeal and more
Zero Calorie Sweetener
Organic and Non-GMO
Directions: Use to sweeten your favourite beverages and foods. Use 1 to 4 drops as desired daily. Sweeten to taste. Remember a little BetterStevia goes a long way. Sedimentation may occur. Shake well before using. Store in a cool, dry place after opening. 

Ingredients: Distrilled Water, Organic Steviol Glycosides (Stevia rebaudiana leaf extract) , Organic Cane Alcohol. This product contains 11% Alcohol.