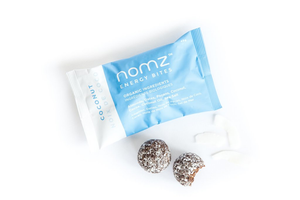 Our delicious bites are coated in freshly shaved coconut for a touch of sweetness. Perfectly balanced. Soft, chocolatey, nutty and sweet... mmm, nom nom. Each bite is made with organic nuts, dates, cocoa, coconut oil and fleur de sel.
Certified organic, vegan, and paleo. Gluten free and without refined sugars.
Ingredients: Almonds, Dates, Coconut, Cocoa, Coconut Oil, Fleur de sel.
Contains: Nuts. May contain date pit fragments.