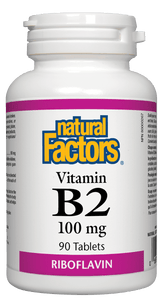 Riboflavin, or vitamin B2, works in two enzymes which are a very important part of your body's energy production (FMN and FAD). Signs of Riboflavin deficiency include: cracking at the corners of the mouth and lips, inflammation of the tongue; visual problems such light sensitivity, cataracts and decreased visual acuity; painful burning and itching of the eyes, mouth, tongue, and lips, and other disorders associated with mucous membranes.

Riboflavin supplements are specifically used for treatment of sickle cell anemia, cataracts, and preventing migraine headaches. Vitamin C is included due to the synergistic effects of combining vitaminc C with B vitamins.
Benefits:
Supports proper eye function
Helps prevent headaches and migraines
Reduces eye light sensitivity
Involved in the production of energy
Directions: 1 tablet daily, or as directed by a health care practitioner.