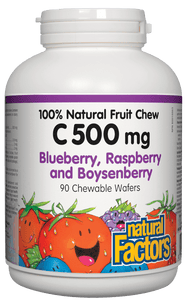 Delicious fruit-flavored chewable vitamin C wafers that contain 500 mg of vitamin C in a blend of citrus bioflavonoids, hesperidin, rosehips, and rutin. Bioflavonoids acts in synergy with vitamin C to promote antioxidant activity. Vitamin C is a powerful antioxidant which supports healthy bones, cartilage, teeth, and gums. A free radical scavenger supporting cellular health. 
Chew 1 wafer per day or as directed by a health professional.
Contains no artificial preservatives or sweeteners; no dairy, wheat, gluten, yeast, soy, egg, fish, shellfish, animal products, tree nuts, or GMOs.