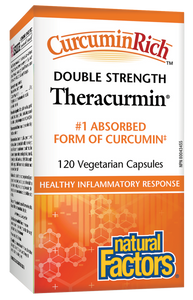 #1 absorbed form of curcumin. CurcuminRich Double Strength Theracurmin is made with Theracurmin, the #1 absorbed form of curcumin available. Its high absorption and bioavailability means greater support for your body's natural inflammatory response and added antioxidant protection. Theracurmin also helps relieve joint pain associated with osteoarthritis of the knee.
Supports a healthy inflammatory response
Helps relieve pain due to osteoarthritis of the knee
Lessens exercise-induced oxidative stress
Provides antioxidants for the maintenance of good health
CurcuminRich Double Strength Theracurmin unlocks the medicinal power of curcumin, the yellow pigment found in turmeric (Curcuma longa). Turmeric is a member of the ginger family and is the principal spice used in curry. It has been used in India for thousands of years in traditional Ayurvedic medicine.
Curcumin has a broad range actions that support good health. Modern science confirms that its antioxidant properties help protect against water- and fat-soluble toxins. It also supports healthy inflammatory response and has been used successfully to relieve joint pain associated with osteoarthritis of the knee.
When it comes to curcumin, it's not how much you take but how much you absorb that matters. Early clinical studies found that large quantities of curcumin had to be consumed because the absorption (bioavailability) of regular curcumin is quite poor.
Theracurmin is an advanced formulation that uses proprietary dispersion technology to create microscopic particles dispersed in a colloidal suspension for better absorption. Theracurmin is more bioavailable than regular curcumin powder, ensuring a therapeutically effective level in the blood. Published studies comparing blood levels of curcumin using leading brands confirm that on a milligram-to-milligram basis, Theracurmin is the best-absorbed form of curcumin on the market.‡
‡Scientific scrutiny revealed that Theracurmin was more bioavailable on a milligram-to-milligram basis than other leading* enhanced and regular forms of curcumin.
Medicinal ingredients: Each vegetarian capsule contains: Theracurmin® curcumin† from turmeric (Curcuma longa) (rhizome) 60 mg† A highly bioavailable form of curcumin – the most active curcuminoid in turmeric. Non-medicinal Ingredients: Vegetarian capsule (carbohydrate gum [cellulose], purified water), microcrystalline cellulose, croscarmellose sodium, vegetable grade magnesium stearate (lubricant), silica.
Contains no artificial colours, preservatives, or sweeteners; no dairy, starch, sugar, wheat, gluten, yeast, soy, egg, fish, shellfish, animal products, salt, tree nuts, or GMOs. Suitable for vegetarians/vegans.
Cautions: Consult a health care practitioner prior to use if you are pregnant or breastfeeding, are taking antiplatelet medication or blood thinners, or if you have gallstones, bile duct obstruction, stomach ulcers or excess stomach acid. Keep out of the reach of children.