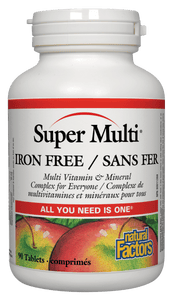 Natural Factors Super Multi Iron Free supplies a broad spectrum of vitamins, minerals, and synergistic antioxidants from citrus bioflavonoids, rutin, and hesperidin. This is an excellent medium strength one-a-day multivitamin/mineral tablet ideal for men, menopausal women, and others not requiring iron.
Helps your body deal with stress.
Iron free.
Provides daily nutritional insurance.
Medium strength.
DOSAGE:
1 tablet daily with food, a few hours before or after taking other medications, or after taking other medications, or as directed by a health care practitioner.
Medicinal ingredients:
Each Tablet Contains: 
Vitamins: Beta-Carotene 6000 mcg (10,000 IU)
Vitamin D3 (Cholecalciferol) 10 mcg (400 IU)
Vitamin B1 (Thiamine Hydrochloride) 25 mg
Vitamin B2 (Riboflavin) 25 mg
Niacinamide 50 mg
Vitamin B6 (Pyridoxine Hydrochloride) 25 mg
Vitamin B12 (Cyanocobalamin) 50 mcg
Pantothenic Acid (Calcium d-pantothenate) 25 mg
Folic Acid (Folate) 0.8 mg
Biotin 25 mcg
Vitamin C (Ascorbic Acid) 150 mg
Vitamin E (d-alpha Tocopheryl Acid Succinate) 34 mg AT (50 IU)
Minerals: Calcium (Citrate/Carbonate) 125 mg
Magnesium (Citrate/Oxide) 50 mg
Potassium (Citrate) 10 mg
Zinc (Citrate) 10 mg
Manganese (Citrate) 5 mg
Iodine (Ascophyllum nodosum) (Kelp) 0.1 mg
Chromium (HVP* Chelate)100 mcg
Selenium (HVP* Chelate)20 mcg
Additional Ingredients: Para-Aminobenzoic Acid (PABA) 25 mg
Glutamic Acid 25 mg
Choline Bitartrate 50 mg
Inositol 50 mg
*HVP: Hydrolyzed Vegetable Protein (rice). 
Non-Medicinal Ingredients:
Microcrystalline Cellulose, Coating (Sodium Carboxymethylcellulose, Dextrin, Dextrose, Lecithin, Sodium Citrate), Croscarmellose Sodium, Vegetable Grade Magnesium Stearate (Lubricant).