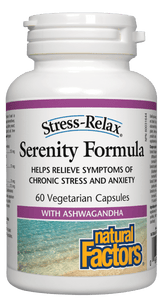 Stress-Relax Serenity Formula combines Sensoril™ ashwagandha, Siberian ginseng, rhodiola, and lavender extract to help relieve symptoms of stress and anxiety, such as mental fatigue, sensation of weakness, sleeplessness, irritability, and inability to concentrate. Its synergistic blend of herbs helps calm stress hormones and balance the body's systems in a non-habit-forming way.
Adrenal exhaustion resulting from chronic stress
Mild depression
Mood/anxiety disorders
All-vegetarian herbal formula
May be used long term
Broad spectrum help for a variety of stress-related disorders
Medicinal Ingredients: Ashwaganda (Root and Leaf Extract)- 125mg, Siberian Ginseng Extract- 75mg, Lavender 5:1 extract- 75mg, Rhodiola Extract- 37.5mg
Non-Medicinal Ingredients: Rice starch, vegetarian capsule (carbohydrate gum [cellulose], purified water), vegetable grade magnesium stearate (lubricant).
Ashwagandha is used traditionally in Ayurveda to improve mental and physical performance after periods of exertion. It is also used as a tonic to relieve general debility and support recovery from the effects of issues such as illness, poor nutrition, pollution, and heavy exercise. Clinical studies show that ashwagandha helps lower some physical biomarkers of stress, including cortisol and C-reactive protein levels, while also providing antioxidants to relieve oxidative stress.
Sensoril is a patented ashwagandha extract that works synergistically with Siberian ginseng and rhodiola to increase the body's resistance to mental, physical, and emotional stress. Rhodiola is a well-studied adaptogen known to relieve mental fatigue and feelings of weakness during stressful situations, while Siberian ginseng and Sensoril support cardiovascular health.
Serenity Formula is non‑addictive and may be used for ongoing stress management. Each vegetarian capsule contains 125 mg of ashwagandha extract standardized to 8% withanolides, alongside standardized doses of other key actives. This is a great supplement for people who want natural herbal support to help calm persistent stress hormones and bring the body back into balance.