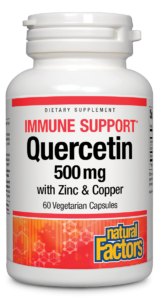 Natural Factors Quercetin 500 mg provides a concentrated source of the antioxidant quercetin, a potent bioflavonoid found in certain fruits, vegetables, and herbs. Quercetin is used in herbal medicine as a blood vessel protectant and supports cardiovascular and immune health. It is an effective supplement for adults who want to protect against oxidative stress and relieve seasonal allergies.
Provides a source of antioxidants
Used in herbal medicine as a blood vessel protectant for cardiovascular health
Provides allergy relief and immune support
Helps combat free radical damage and reactive oxygen species
Protects against oxidative stress
Natural Factors Quercetin 500 mg is a potent antioxidant supplement that protects against oxidative stress and is used in herbal medicine as a capillary and blood vessel protectant. Quercetin is a bioflavonoid found in many vegetables, fruits, and herbs. Increased intake helps support cellular health throughout the body by counteracting unstable free radicals, provides seasonal allergy relief, and may support immune health.
Bioflavonoids such as quercetin help maintain optimal health. Not only are they essential for proper utilization of vitamin C, but they also play important roles in defending the body against the reactive oxygen and nitrogen species that are generated from internal cellular processes and exposure to toxins and foreign agents in the environment.
Natural Factors Quercetin 500 mg contains an effective source of antioxidants and is specially developed to maintain cellular and cardiovascular health. Each vegetarian capsule contains 500 mg of quercetin to be taken 1–2 times per day. It contains no preservatives, sweeteners, gluten, or GMOs, and is suitable for vegetarians. Quercetin is a great choice for anyone who wants to take a plant-based approach to self-protection and is a key addition to any health defence toolkit.
Medicinal Ingredients: Each vegetarian capsule contains: Quercetin (bioflavonoids) 500 mg Zinc (citrate, dihydrate) 15 mg Copper (citrate) 1000 mcg Non-medicinal Ingredients: Vegetarian capsule (carbohydrate gum [cellulose], purified water), microcrystalline cellulose, vegetable grade magnesium stearate (lubricant), stearic acid, silica.
Contains no artificial colours, preservatives, or sweeteners; no dairy, starch, sugar, wheat, gluten, yeast, soy, corn, egg, fish, shellfish, animal products, salt, tree nuts, or GMOs. Suitable for vegetarians/vegans.