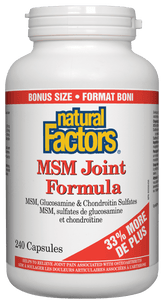 Dietary Supplement
With Glucosamine & Chondroitin Sulfates
Nutritional Support for Healthy Joints
OptiMSM
Purity & Potency Guaranteed
MSM Joint Formula is a synergistic blend of naturally derived compounds; MSM, Glucosamine and Chondroitin Sulfates which support healthy joint function. Glucosamine and Chondroitin provide support for the cartilage while MSM nourishes the joints and muscles. Taken together, these three nutrients provide triple joint support for healthy mobility.
Medicinal Ingredients:
Glucosamine Sulfate- 300mg
OptiMSM Methyl-Sufonyl-Methane- 300mg
Chondroitin Sulfate- 240mg