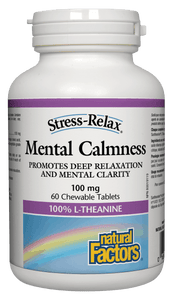 Overview
Helps reduce feelings of stress and nervousness
Helps promote relaxation without causing drowsiness
Helps improve concentration and mental clarity
Helps improve sleep quality by restoring mental calmness
Helps control stress-related food cravings
Stress-Relax Mental Calmness® formula provides natural anxiety and stress control without the side effects of pharmaceutical drugs. For anyone feeling stressed, frazzled or over-committed in this 24/7 world, this safe supplement restores mental calmness and promotes relaxation.
Advanced Info
Prolonged daily stress, nervousness, and being over-committed can have a negative effect on physical, emotional, and mental health. In our 24/7 world, it is easy to feel overwhelmed by our obligations to work, family, finances, relationships, and ourselves. Finding balance is key. Stress-Relax Mental Calmness from Natural Factors temporarily promotes relaxation with Suntheanine® L-theanine, an amino acid derived from green tea through a proprietary fermentation process. This process mimics the natural process in green tea leaves, resulting in a 100% pure L-isomer-theanine. Daily use of Mental Calmness produces a sense of calm and mental clarity, helping anyone who feels nervous and "stressed out" to regain control.
Suntheanine L-theanine exerts noticeable effects within 30–40 minutes of ingestion without causing drowsiness. It helps with stress, calms the nerves, improves mood, and even promotes learning and concentration. Best of all, it is considered safe when taken long-term.
These delicious, chewable tablets are convenient for daytime use and can be taken alone or in combination with other Stress-Relax products. This is an effective formula to promote relaxation in anyone 19 years and older who wants to keep pace during a heavy mental or physical workload or who is feeling overwhelmed with symptoms of daily stress.