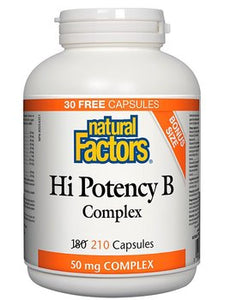 Natural Factors Hi Potency B Complex is a one-per-day formula that provides the full spectrum of all essential B vitamins. Each capsule contains a 50 mg potency that enhances energy levels by helping the body metabolize carbohydrates, proteins, and fats, as well as supporting red blood cell formation.
Benefits:
– Provides essential B vitamins to maintain energy levels
– Helps the body convert carbohydrates, fats, and proteins to energy
– Aids tissue and red blood cell formation
– Supports normal growth and development
– A factor in the maintenance of good health
Ingredients (per capsule):
Vitamin B1 (thiamine hydrochloride) 50 mg
Vitamin B2 (riboflavin) 50 mg
Niacinamide 50 mg
Vitamin B6 (pyridoxine hydrochloride) 50 mg
Pantothenic acid (calcium d-pantothenate) 50 mg
Para-aminobenzoic acid (PABA) 50 mg
Folic acid (folate) 1 mg
Biotin 60 mcg
Vitamin B12 (cyanocobalamin) 50 mcg
Lipotropic factors:
Choline (bitartrate) 50 mg
Inositol 50 mg
Non-medicinal Ingredients:
gelatin capsule (gelatin, purified water), microcrystalline cellulose, vegetable grade magnesium stearate (lubricant), silica
Suggested Adult Use:
Take 1 capsule daily with food.