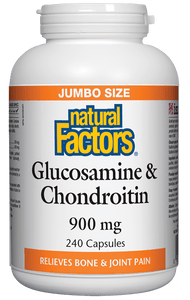 Natural arthritis relief
Repairs and lubricates joints
Proven effective for arthritis sufferers
Relieves joint pain
Helps reduce pain and inflammation of joints
Promotes proper lubrication of joints
May help with range of motion
Natural Factors Glucosamine and Chondroitin Sulfate helps relieve the joint pain of osteoarthritis and protects against cartilage deterioration. It is the most natural and successful choice for optimizing joint health and function because it provides the nutrients needed for enhanced joint lubrication, building new connective tissue, and strengthening cartilage.
Medicinal Ingredients: Glucosamine sulfate (potassium chloride from shrimp/crab exoskeleton) 500 mg Chondroitin sulfate (sodium from bovine cartilage) 400 mg
When glucosamine and chondroitin sulfates are combined, they provide double action support to relieve the pain and discomfort of osteoarthritis symptoms. Glucosamine sulfate is used to make the cartilage needed for repairing joints, while chondroitin actively fights the enzymes that breakdown joint tissue and helps maintain the nutrients and fluid within joints that allows for smooth and cushioned movement. Combining them into one supplement provides an effective way to ensure both vital nutrients are available to relieve symptoms of osteoarthritis and joint dysfunction. Actively protecting tissue and repairing cartilage can help slow joint degeneration and potentially delay the need for replacement surgery.

Glucosamine and Chondroitin Sulfate by Natural Factors contains naturally sourced ingredients that proactively fight the root cause of joint pain and reduce the need for non-steroidal anti-inflammatory drugs (NSAIDs) which simply mask pain. Each easy-to-swallow capsule delivers an ideal ratio of 500 mg of glucosamine sulfate to 400 mg chondroitin sulfate and are taken multiple times per to achieve an optimal daily intake of 1500 mg and 1200 mg, respectively. Both nutrients are extremely well-tolerated and time-tested. They are key factors in physical mobility, comfort, and maintaining a quality active lifestyle.