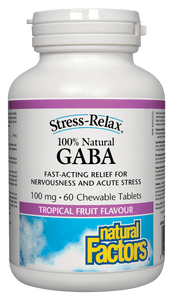 Fast-acting relief for nervousness and acute stress, Natural Factors Stress-Relax 100% Natural GABA is a superior source and naturally produced form of the important brain compound gamma-aminobutyric acid (GABA). Convenient chewable tablets in tropical fruit flavour help to quickly promote relaxation and ease nervous tension.
Medicinal Ingredients: PharmaGABA 80 Gamma Aminobutyric Acid- 100mg Non-medicinal ingredients: Dextrose, fructose, stearic acid, xylitol, magnesium silicate, silica, tropical fruit flavour, citric acid.
Gamma-aminobutyric acid (GABA) is a natural calming agent of the brain, often viewed as the brain's "braking system". When we become overwhelmed with stress the brain typically responds by producing more GABA, or pumping the brakes.
GABA's foremost mechanism of action is increasing the production of alpha brain waves (associated with a relaxed, yet alert state) and decreasing production of beta brain waves (associated with nervousness, scattered thoughts, and hyperactivity). This leads to improved relaxation without drowsiness, and enhanced mental focus.
Although every day stress is a normal part of modern day living, for some people stress can become overwhelming, which can lead to an assortment of symptoms including nervous tension, sleep disturbances, and irritability.
Natural Factors Stress-Relax 100% Natural GABA is superior-sourced Pharma GABA, that is produced by Lactobacillus hilgardii, a beneficial lactic acid bacteria used in the making of the traditional Korean vegetable dish known as kimchi. Clinical studies have shown Pharma GABA's important role in reducing stress, promoting feelings of relaxation, and improving concentration.
Natural Factors GABA is made with PharmaGABA, a 100% natural form proven to cross the blood/brain barrier unlike synthetic forms. Although other nutrients such as L-Theanine can also increase alpha brain waves, GABA is more powerful and can provide a quick fix in circumstances of extreme stress, as with phobias and fears.