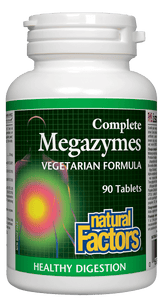 Natural Factors Complete Megazymes is a comprehensive digestive enzyme formula designed to assist and enhance healthy digestion. This vegetarian-friendly, non-GMO formula features natural proteases, amylase, lipase, bromelain, and papain to help the body break down proteins, carbohydrates, and fats, to support healthy digestion and improve nutrient absorption.
Digestive aid 
Helps the body breakdown proteins, fats, and carbohydrates 
Provides a broad spectrum of digestive enzymes to help break down food 
Promotes healthy digestion to support nutrient absorption 
Vegetarian formula
Medicinal Ingredients
Each tablet contains: Enzyme blend38 mgFungal protease   (Aspergillus niger) (whole)13.33 mg (60 FCC SAP)Bromelain (Ananas comosus)   (pineapple stem)9.09 mg (300,000 FCC PU)Alpha-amylase (Aspergillus flavus var. oryzae)   (whole)6 mg (900 FCC DU)Triacylglycerol lipase   (Rhizopus oryzae) (whole)6 mg (210 FCC LU)Papain (Carica papaya) (fruit)3.57 mg (150,000 FCC PU)FCC: Food Chemical Codex; SAP: Spectrophotometric Acid Protease Unit; PU: Papain Unit; DU: Dextrinizing Unit;LU: Lipase Unit.
Non-medicinal Ingredients
Dibasic calcium phosphate dihydrate, microcrystalline cellulose, vegetable grade magnesium stearate (lubricant), stearic acid.
Allergy Information
Contains no artificial colours, preservatives, or sweeteners; no dairy, starch, sugar, wheat, gluten, yeast, soy, egg, fish, shellfish, animal products, salt, tree nuts, or GMOs. Suitable for vegetarians/vegans.