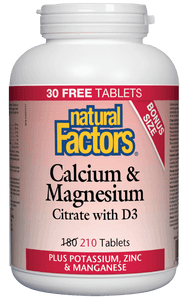 Natural Factors Calcium & Magnesium Citrate with D3 and potassium, zinc & manganese helps in the development and maintenance of bones and teeth. The minerals are in the citrate form, making them more readily absorbable and metabolized by the body. Vitamin D3 is in the cholecalciferol form, which is natural, safe, and highly absorbable.
Benefits:
Promotes strong bones and teeth
Protects against the effects of stress
Potassium, zing, D3, and manganese for enhanced mineral absorbtion
Aids in a restful sleep
Highly bioavailable
Supports healthy blood cells
Gluten, soy, yeast, and GMO free
Directions: 2 tablets daily, a few hours before or after taking other medications. Or as directed by a health care practitioner.
Contains no artificial preservatives, color or sweeteners; no dairy, sugar, wheat, gluten, yeast, soy, egg, fish, shellfish, salt, or GMOs. Suitable for vegetarians.