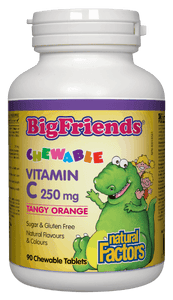 Big Friends Chewable Vitamin C from Natural Factors is a fun and delicious way for children to keep their antioxidant intake up and their bones, cartilage, teeth, and gums healthy. Children love the tangy orange flavour, while the naturally low acid content protects teeth and tummies.
A factor in the maintenance of good health
Assists in the development and maintenance of bones, cartilage, teeth, and gums
Supports connective tissue formation and wound healing
Supplies an antioxidant for the maintenance of good health
Helps the body metabolize fats and proteins
Enhances immune system function
Promotes wound repair
Builds strong, healthy bones and teeth
Powerful antioxidant
Made with all natural sweeteners and flavour
Gentle on tooth enamel
Vegetarian formula
As parents, we want our children to reach their full potential in physical and mental development, yet picky eating habits and busy schedules are real life factors that can compromise children's nutrition and affect their health. Big Friends Chewable Vitamin C combines fun, deliciousness, and quality to help active children maintain strong bones, cartilage, teeth, and gums throughout their growing years. It aids wound healing and supports immune function while also increasing the body's antioxidant intake for the maintenance of good health.
Each chewable tablet delivers a 250 mg dose of vitamin C, supplying a more potent level than can be obtained from an equivalent gummy format. This low-acid formula is gentle on tummies and teeth, while xylitol adds a touch of sweetness and is proven to help prevent cavities. Big Friends is geared for children aged two and older. Children find the Tangy Orange flavour delicious and parents love that they contain no GMOs, gluten, artificial colours, flavours, preservatives, or sugar.
Ingredients: Medicinal Ingredients: Each chewable tablet contains: Vitamin C (sodium ascorbate/ascorbic acid) 250 mg Non-Medicinal Ingredients: Xylitol, stearic acid, natural flavours (orange, tangerine, peach), natural orange colour (paprika extract, annatto, turmeric), vegetable grade magnesium stearate (lubricant), orange peel, citric acid, citrus bioflavonoids, rosehips extract, hesperidin, silica.
Contains no artificial colours, preservatives, or sweeteners; no dairy, sugar, wheat, gluten, yeast, egg, fish, shellfish, animal products, tree nuts, or GMOs. Suitable for vegetarians/vegans.