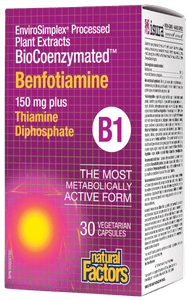 Supports the healthy function of nerves in individuals with polyneuropathy; Supports normal growth, nerve function, and energy production; Helps maintain the body's ability to metabolize nutrients; Helps prevent thiamine deficiency.
Benfotiamine is fat-soluble and more bioavailable than water-soluble thiamine. Natural Factors Benfotiamine provides a superior source of thiamine compared to thiamine hydrochloride as it provides a higher bioavailability of thiamine. This formula combines benfotiamine with of bioactive thiamine diphosphate to support nerve function and energy metabolism, alongside Farm Fresh Factors – a bioenergetic blend of phytonutrients from whole foods. Upgrade your standard B1 supplement to this non-GMO, vegan-friendly, advanced formula and feel the difference.
Benfotiamine and thiamine diphosphate are biologically active forms of thiamine (vitamin B1), a nutrient that is essential for healthy nerve function and for the metabolism of lipids, carbohydrates, and proteins. Benfotiamine is fat soluble, unlike thiamine, it appears to be 3.6 times more bioavailable than standard thiamine hydrochloride, offering superior support for individuals with polyneuropathy.
This unique biocoenzymated formula features proprietary EnviroSimplex® technology, combining Farm Fresh Factors™ – an organic whole food blend of land and sea vegetables – with coenzyme forms of vitamin B1. The result is a synergistic phytochemical formula that delivers the most metabolically active nutrients to your cells. Ready-to-use benfotiamine and thiamine diphosphate offer immediate and direct nutritional support, even for those with impaired metabolism.
Ingredients:
Benfotiamine 150 mg
Vitamin B1 (thiamine diphosphate) 10 mg
Non-Medicinal Ingredients: 
Microcrystalline cellulose, vegetarian capsule (carbohydrate gum [cellulose], purified water), Farm Fresh Factors™*, vegetable grade magnesium stearate (lubricant), stearic acid.