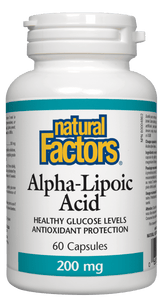 Alpha-lipoic acid is involved in energy production. Alpha-lipoic acid works together with vitamin E and vitamin C to protect the entire cell from oxidative stress. As an antioxidant it is a very small molecule that is efficiently absorbed and easily crosses cell membranes. Alpha-lipoic acid is both fat- and water-soluble, so it can quench free radicals both inside and outside the cell. It also directly recycles vitamins C and glutathione and indirectly recycles vitamin E.

Alpha-lipoic acid is an approved drug in Germany for the treatment of diabetic neuropathy (nerve disease). Several double-blind studies have shown lipoic acid supplementation (300–600 mg daily) does improve diabetic neuropathy.

Although the body does make alpha-lipoic acid, supplementation is advised because the body uses the available alpha-lipoic acid for metabolic function with very little left over for antioxidant function.
Medicinal ingredients:
Alpha-Lipoic Acid…200mg

Non-medicinal ingredients:
Gelatin capsule (gelatin, purified water), microcrystalline cellulose, vegetable grade magnesium stearate (lubricant), silica