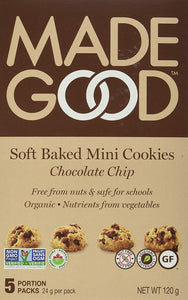 This is an ode to the world's most beloved cookie. Soft, chewy and chocolatey, now baked into perfect mini cookies. Made with vegan dark chocolate chips for extra flavour and keep them gluten-free too!
Gluten Free | Dairy Free | Soy Free | Egg Free | Peanut Free | Nut Free | Fish Free | Shellfish Free | Sesame Free | Vegan | Kosher
Ingredients: Gluten free flour blend* (oat flour*, tapioca flour*, potato starch*), cane sugar syrup*, vegetable oils* (sustainable palm fruit oil*, sunflower oil*), chocolate chips* (cane sugar*, cocoa mass*, cocoa butter*, vanilla*), vegetable glycerin*, chia*, brown sugar*, baking powder, vanilla flavour*, vegetable extracts (spinach, broccoli, carrots, tomatoes, beets, shiitake mushrooms), sea salt.