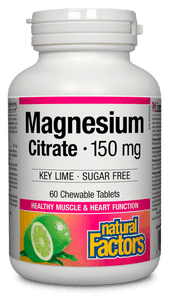 Supports the development and maintenance of bones and teeth
Helps maintain proper muscle function, including the heart muscle
Aids in tissue formation and energy metabolism
Supports normal electrolyte balance for the maintenance of good health
Helps the body metabolize nutrients
Natural Factors Magnesium provides 150 mg of high-quality, bioavailable magnesium citrate in a delicious, sugar-free, Key lime flavoured chewable tablet. Magnesium helps maintain proper muscle function and supports healthy bones and teeth. This one-per-day formula is easy to take and offers an enjoyable option for people who have difficulty swallowing pills.
Ingredients: 
Magnesium (citrate) 150 mg
Non-Medicinal Ingredients
Xylitol, microcrystalline cellulose, hydroxypropylcellulose, citric acid, natural flavours, vegetable grade magnesium stearate (lubricant), stearic acid.