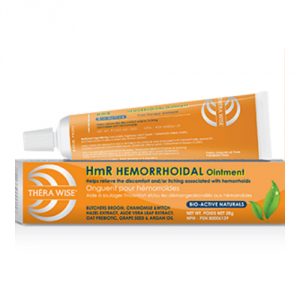 Helps relieve the discomfort and/or itching in the perianal area associated with hemorrhoids, anorectal disorders, inflamed hemorrhoidal tissues, anorectal inflammation, hemorrhoidal tissues or piles. Aids in protecting irritated anorectal areas. Temporary relief of irritation or burning. A Wise choice for hemorrhoids, and hemorrhoids associated with pregnancy.

Contains: Witch Hazel Extract, Organic Chamomile Extract, Barley Beta-Glucan Concentrate, Grape Seed Oil, Seabuckthorn Berry Oil, Organic Aloe Extract, Argania Spinosa (Argan) Oil (Containing- EFA's, Tocopherol and Phytosterols), Butcher's Broom Extract, Vitamin A, C, E, Olive Oil Emulsifiers and Waxes, Natural Plant Preservatives

Quantity: 28g (applicator included).