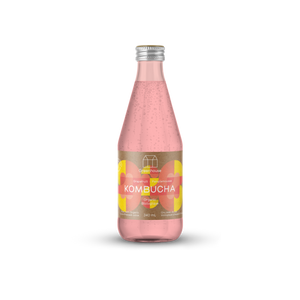 I'm a puckery, pink rocker with a zest for life, ready for my debut Canadian tour!

Got tickets to my show? You can expect a bittersweet symphony courtesy of my star ingredient, cold-pressed grapefruit, which when coupled with my effervescent bubbles, makes for a thoroughly invigorating experience that'll have your tastebuds headbanging in no time. Plus, I bring 28% of your recommended daily dose of vitamin C to the party, so you can dance into the night.

For my encore? My kombucha cultures offer gut support—rock on!
Ingredients: Filtered Water, Organic Cold-Pressed Grapefruit, Organic Lemongrass, Organic Cold-Pressed Lemon, Organic Black Tea, Organic Cane Sugar, Organic Cold-Pressed Beet, Kombucha Culture
*Due to the nature of this product availble for local delivery & pick-up only*