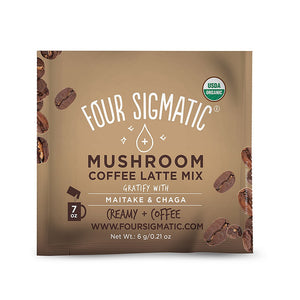 In between meals, reach for Mushroom Coffee Latte with Maitake & Chaga. Sip the creamy coffee you love, with 0 grams sugar, and the benefits of maitake, chaga, and mucuna. Sweetened with superfoods, enjoy a certified paleo, and dairy-free keto coffee that loves you a latte.
Features:
USDA organic, vegan, keto, and certified paleo
50mg of caffeine
Sweetened with lucuma and stevia, 0g of sugar
Ingredients: Organic Coconut Milk Powder, Organic Instant Coffee Powder, Organic Coconut Palm Sugar, Organic Lion's Mane Extract (300 mg), Organic Chaga Extract* (200 mg), Organic Lucuma Powder, Organic Mucuna Pruriens Extract, Organic Stevia Extract (Reb-A).