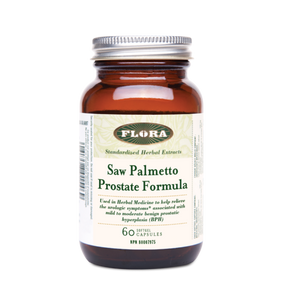 Multiple clinical studies have shown that saw palmetto provides mild to moderate improvement in urinary symptoms associated with Benign Prostatic Hyperplasia (BPH) such as frequent urination, painful urination, hesitancy, urgency and perineal heaviness. What's the "Plus"? Added Zinc and Vitamin B6 for a superior prostate health formula. Zinc has long been established as an important mineral for male fertility and sexual health.
Non-GMO
Used in Herbal Medicine to help relieve the urologic symptoms (e.g. weak urine flow, incomplete voiding, frequent daytime and night time urination) associated with mild to moderate benign prostatic hyperplasia.
Helps to maintain immune function.
Assists the body to metabolize fats, proteins and carbohydrates for the maintenance of good health.
MEDICINAL INGREDIENTS
Saw palmetto (Serenoa repens) fruit lipidosterolic extract . . . 320 mg
        (standardized to contain 85-95% free fatty acids, esters & sterols)
Vitamin B6 (pyridoxine hydrochloride) . . 70 mg
Zinc (citrate) . . . 16 mg
NON MEDICINAL INGREDIENTS
Gelatin, glycerin, water, caramel, white beeswax and carob.