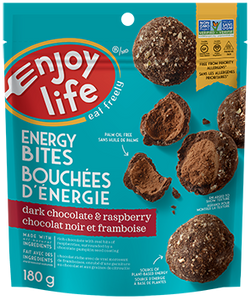 Fuel your day with Dark Chocolate & Raspberry Energy Bites! The indulgent combination of raspberries and dairy-free dark chocolate will make snack time feel like a treat. Each bag contains five 3-bite servings, each packed with vegan protein. Perfect for those with allergy sensitivities, our Energy Bites are free from common allergens as well as palm oil and gluten.
Dairy Free|Vegan|Gluten Free|Soy Free|Peanut Free|Treenut Free
Ingredients: chocolate (cocoa mass, brown sugar, cocoa butter), sugars (liquid invert brown sugar, tapioca syrup), sunflower seed protein, roasted pumpkin seeds (pumpkin seeds, safflower oil, salt), rice protein, cocoa butter, cocoa, dried raspberries, vegetable oil, natural flavour, citric acid.