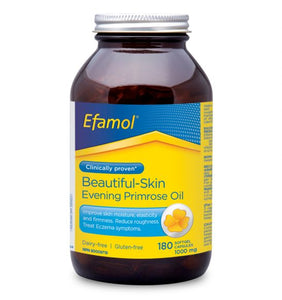 Efamol Evening Primrose Oil is unique. The oil used is carefully extracted from a specially cultivated Rigel Evening Primrose, the seeds of which contain up to 33% more GLA than other Evening Primrose Oils*. Efamol carefully manages each step of the oil extraction process to ensure that the oil stays in the same form as in the seed, thus retaining its natural properties.
At Efamol, quality and purity are key values. Our unique Rigel Evening Primrose is grown to our specification in the Netherlands and New Zealand by the same growers we have used for the last 40 years.
This unique oil is tested to ensure it contains the GLA stated and has been successfully used in numerous scientific trials in humans.
Nutritional Information
One capsule (1000mg) or two capsules (500mg)  provides %NRV*Efamol Pure Evening Primrose Oil 1000mg**of which: Omega 6755mg**of which: GLA115mg**Vitamin E (α-TE)10mg83
*Nutrient Reference Value formerly known as RDA
**No NRV Established GLA – Gamma Linolenic Acid
Ingredients 
Pure Evening Primrose Oil, capsule shell (bovine gelatin, humectant: glycerol, vitamin E (dl-alpha tocopheryl acetate).
Efamol Evening Primrose Oil helps support beautifully nourished and smooth looking skin.
With Vitamin E which helps protect cells from oxidative stress, which can be caused by sunlight and natural processes including ageing.
Can be used by women throughout the month.
Features
Efamol gives you 33% more GLA.
To support beautifully smooth and nourished looking skin.
With Rigel Evening Primrose Oil unique to Efamol.