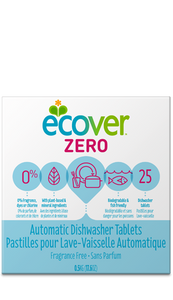 Ecover Dish Tabs have powerful degreasing properties that get dishes sparkling clean. What's more, they do it without those unnecessary chemicals.

Features:
Powers away stuck-on food and gets dishes sparkling clean
Biodegradable and phosephate-free
Made using plant-based and mineral ingredients
Zero fragrance, dyes, or chlorine
Box made from recycled cardboard
Ingredients: Sodium citrate, Sodium carbonate peroxide, Sodium carbonate, Disodium disilicate, Sodium bicarbonate, Tade, Sodium polyaspartate, Sorbitol, Sorbitan sesquicaprylate, Caprylyl/capryl glucoside, Glycerin, Subtilisin, Amylase, Sodium gluconate.