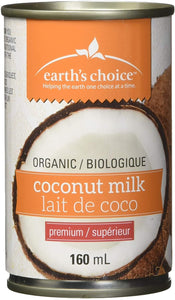 Coconut milk and cream are the perfect, dairy-free alternatives for baking and savoury dishes. At Earth's Choice, we only source coconuts nurtured by farmers on certified organic and sustainable farms in pristine eco-system
Organic & Kosher certified
Non-BPA, non-BPS can lining
Not made from extracts
Coconut Fat: Cream (20%), Premium (17%), Light (5%)
Product of Thailand
FAQs
What is the can lining made of: A polyester-type material.  It is free of epoxy (which is where BPA & BPS is commonly used) and its derivatives.
 Are coconut milks free from peanut and tree nut cross-contamination: Yes.
What is guar gum: It comes is a plant related to the pea family; by grinding its seeds to a fine powder, it prevents separation and keeps coconut milk smooth and creamy.