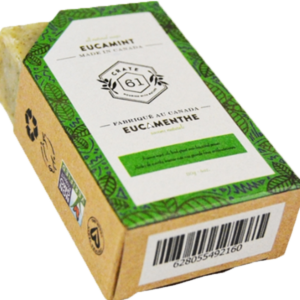 Eucamint soap is formulated with a heavy dose of eucalyptus and peppermint essential oils which will make your bathroom smell like a 5-star spa! This Eucamint Bar Soap is made exclusively with certified vegan and cruelty free ingredients and packaged in a fully biodegradable paperboard box. Cold pressed extra virgin olive oil and unrefined avocado oil lend a rich bubbly lather that will leave your skin super soft and moisturized.
Cruelty Free | Vegan
Ingredients: Saponified*: Extra Virgin Olive Oil, Coconut Oil, Canadian Canola Oil, Avocado Oil, Eucalyptus Essential Oil, Peppermint Essential Oil, Rosemary Essential Oil, Dried Peppermint Leaves * saponified - indicates sodium hydroxide is used to saponify the oils; sodium hydroxide is not present in the finished product.