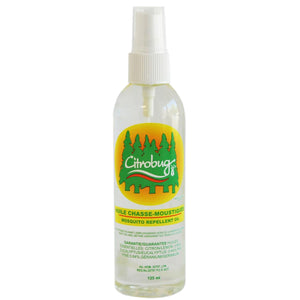 Directions for Use: Apply a thin film to exposed skin, avoiding eyes, mouth, wounds, and sensitive, irritated or sunburned skin. To apply to face, spray a small amount on hands and rub on face.  Apply sparingly, only when necessary, and not under clothing. Always supervise applications on children and do not apply to the hands of young children. After returning indoors, wash treated skin and contaminated clothing with soap and water. Reapply at 2 hour intervals only if exposure to mosquitos continues. DO NOT EXCEED 2 APPLICATIONS PER DAY.
Health Canada Pest Control Product Registration Number 25797
Ingredients:
Lemon oil………0.64%
Eucalyptus oil… 0.64%,
Pine needle oil….0.64%,
Geranium oil …..0.64%
Camphor oil……0.21%

Precautions: KEEP OUT OF REACH OF CHILDREN.  DO NOT USE ON CHILDREN, 2 YEARS OLD AND LESS. For external use only. May cause skin reactions on sensitive individuals. Discontinue use if signs of irritation or rash appear.  Can be used safely when used according to the label directions.