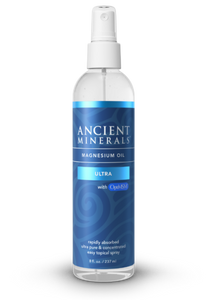 A next generation formula incorporating the unique synergistic benefits of MSM with the longstanding benefits of the Original Ancient Minerals® magnesium oil. MSM (methylsulfonylmethane) has long been revered as a superior form of sulfur. Ancient Minerals® magnesium oil ultra utilizes premium distilled OptiMSM® and pure magnesium chloride.
The #1 most recommended magnesium oil
Ultra-pure and highly concentrated MSM
Commonly used by athletes worldwide
Ingredients: Water, Genuine Zechstein magnesium chloride (and trace minerals), methylsulfonylmethane (MSM)
55mg elemental magnesium and 40mg elemental sulfur (from OptiMSM®) per 1ml / 6 sprays
MSM
MSM or methylsulfonylmethane is an organic sulfur compound known for a multitude of benefits.
MSM also maximizes the benefits of exercise. Sulfur supports healthy skin, hair, and nails, whilst is also encourages cellular detoxification and glutathione production contributing to optimal health.
With a slightly lower magnesium concentration and skin-soothing properties of sulfur. Ancient Minerals® Ultra products are well-suited for those with sensitive skin.
Product Application and Usage
Magnesium oil is topical magnesium in a convenient spray, designed to be absorbed by the skin, bypassing the gastrointestinal tract, with no unpleasant laxative effect.
Apply to clean skin. Avoid sensitive areas and mucus membranes. We recommend applying liberally to larger areas of skin such as your torso, legs, and arms, to help maximize absorption.
It is normal to experience slight itching or stinging during initial use. This should subside during the absorption process.
The magnesium oil is water-soluble and can be diluted with pure water to form a lower concentration for a lighter application. We recommend starting with a 1:1 ratio but the solution can be diluted even further.
Some users experience more sensitivity—in this case we recommended you try a gentler application form like the Ancient Minerals® Magnesium Bath Flakes or Ancient Minerals® Magnesium Lotion as alternative methods of magnesium delivery.
Leave the magnesium oil on for 20 minutes to allow the magnesium sufficient time to absorb. After this time, you can rinse or wipe off the product if you prefer.
No rinsing is necessary unless your skin feels uncomfortable due to any natural salt residue.