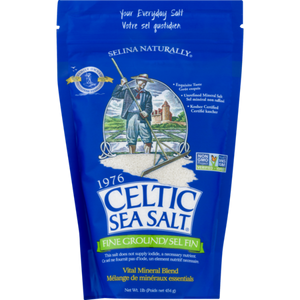 *Due to the high demand and longterm shortage of this product, there is a 3 unit per person/household limit across all Celtic Sea Salt products.  There has been widespread issue of individuals bulk purchasing and reselling at inflated prices, profiteering off of the shortage. This limit is in place to ensure our customers can access this product and purchase at its appropriate price point. Thank you for your understanding and we will update when this product is back to its normal stock supply.
Celtic Sea Salt® Fine Ground is the perfect salt for the novice health buff, and a great way to introduce friends and family to Celtic Sea Salt® Brand salt. Their Fine Ground has no additives and is not processed in any way beyond drying and grinding.
Features:
Resealable bag
Sustainably harvested
More nutritious than table salt
Exquisite taste
Certified Kosher
Non GMO
Gluten free
Ingredients: Sea salt.