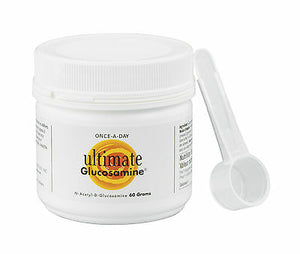 ULTIMATE GLUCOSAMINE is a powder consisting of 100% pure N-acetylglucosamine. This unique formulation contains no additives, salts, preservatives, coloring agents, gluten, lactose or yeast. It dissolves readily and can be added to any hot or cold beverage as a mild sweetener.
N-acetylglucosamine is a major component of hyaluronan, a substance that functions as a lubricant in joints. It is important in the growth and repair of joint cartilage. It has also been shown to repair joint damage in experimental models of osteoarthritis.
Add 1 level teaspoon of ULTIMATE GLUCOSAMINE to any hot or cold drink including tea, coffee, juice, milk or soda. The once-a-day powder format can easily be adapted to your daily routine:
For a relaxing bedtime drink, add 1 teaspoon to a cup of camomile tea.
Add 1 teaspoon to their morning ritual, a smoothie or a cup of coffee.
Sprinkle 1 teaspoon over hot or cold cereal.
After any physical activity, add 1 teaspoon to a favorite energy drink.